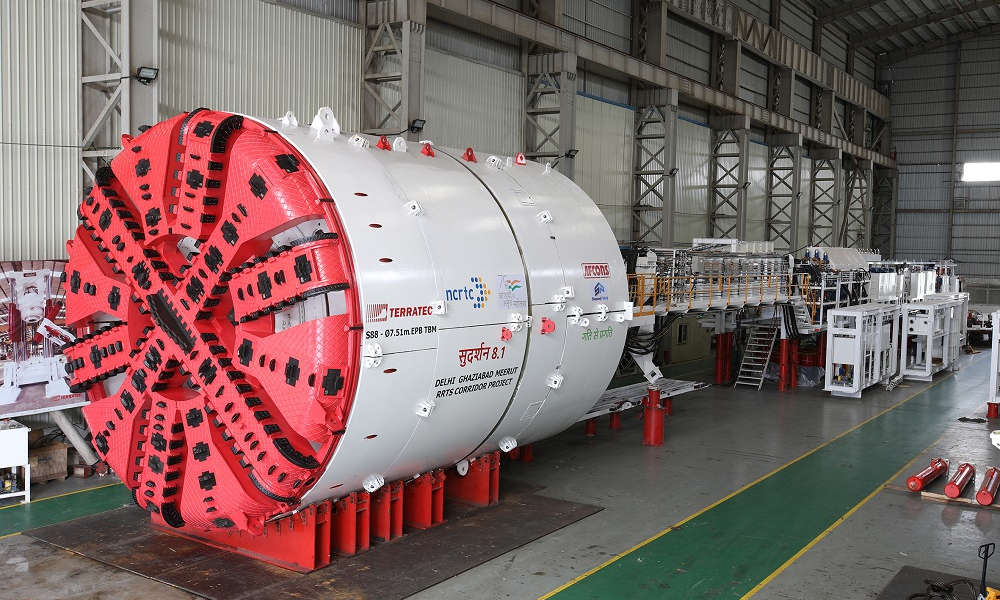 TERRATEC EPBMs Ready for
Delhi-Meerut

Project
TERRATEC announced the delivery of three (3) new 7.51m diameter Earth Pressure Balance Tunnel Boring Machines (EPBMs) for India's first Regional Rapid Transit System Project to connect Delhi-Ghaziabad-Meerut. The three (3) TBMs will be used by contractor Afcons Infrastructure Ltd. to complete the tunnelling works for Package-8, Brahampuri down ramp to Begumpul up ramp section of the Delhi-Meerut Regional Rapid Transit System Project. Package 8 consists of a 7.12 km underground tunnel and three underground stations.
CREG Full Face Hard Rock Shaft Boring Machine Breaks Through
On Dec. 28, "CREG 599" — a full face hard rock shaft boring machine — broke through the ventilation shaft of Ninghai Pumped Storage Power Plant. Independently developed by China Railway Engineering Equipment Group Co. Ltd. (CREG), the successful application of full face hard rock shaft boring machine marks that CREG has successfully overcome the world-class technical problem of a full face hard rock shaft boring machine and realized underground unmanned tunneling in a shaft for the first time.
Robust and Comfortable
Sponsored: Powered Air Purifying Respirators are battery operated devices drawing in the ambient air and passing it through a filter into the headpiece — leading to virtually no breathing resistance. These respirators can be worn for longer periods of time and enable the user to breathe freely during demanding tasks. Check out the Dräger PAPR.
McLaughlin Celebrates Milestone Anniversary
McLaughlin, a Vermeer Brand, was founded in 1921 and has proudly marked a century providing workable solutions for the construction, utility and trenchless industries. Today, the brand continues to innovate and expand the capabilities of auger boring equipment for customers worldwide.
Dates, Location Set for 6th Risk Management in Underground Construction Course
The 6th annual Risk Management in Underground Construction course will be held April 12-13, 2022, at the Hilton Atlanta Airport Hotel in Atlanta, Georgia. The highly rated Risk Management in Underground Construction course provides a unique and engaging forum for stakeholders involved in large-scale underground projects, including contractors, owners, consultants, insurance companies, equipment manufacturers, and law firms.
Dates, Location Set for 2022 Microtunneling Short Course
The 28th annual Microtunneling Short Course is heading to its new location of the Scottsdale Stadium in Scottsdale, Arizona, April 27-29, 2022. The event brings together the international microtunneling community for a three-day Microtunneling Short Course, featuring top-notch technical presentations from leading global experts covering everything from planning, design and construction.
IN THE DECEMBER ISSUE
Tunneling Industry Directory
Risk Management
Upcoming Projects
Don't miss out on the best tunnel coverage in North America — renew your subscription!
State-of-the-art information for researchers, practitioners, and students interested in resilience of urban tunnels and infrastructure.
Read More & Purchase
Innovative techniques focused on reducing time, cost and risk in the construction and maintenance of underground facilities.
Read More & Purchase