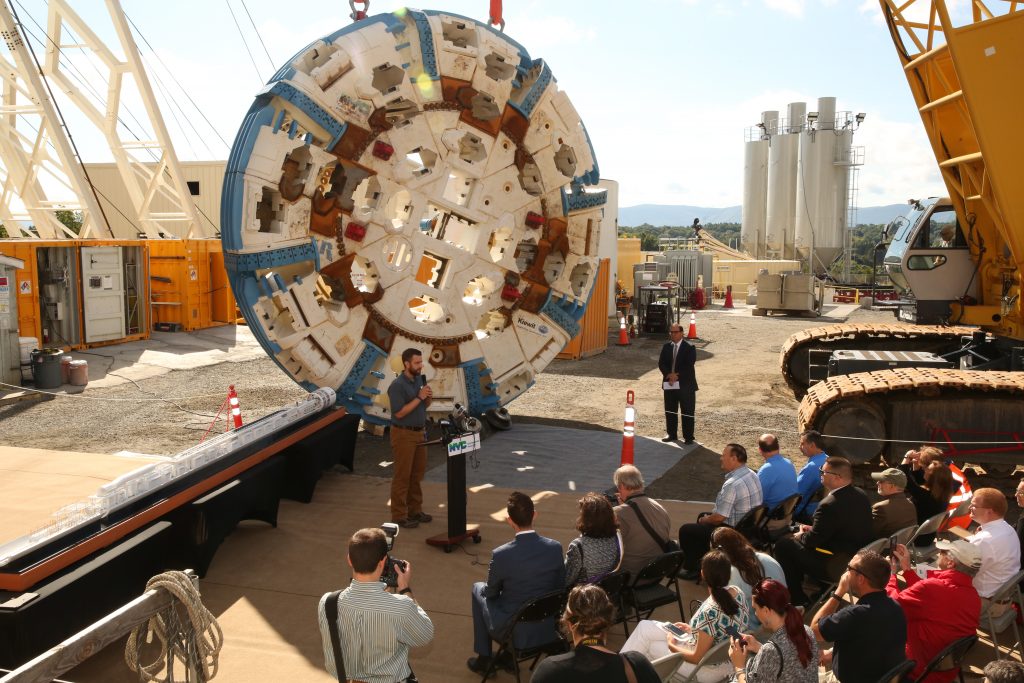 NYC DEP Announces Start of Tunneling for Delaware Aqueduct Repair
On Sept. 8, the New York City Department of Environmental Protection (DEP) was joined by federal, state and local representatives, honored guests, and dozens of construction workers to mark the start of tunneling for the Delaware Aqueduct Bypass Tunnel – the largest repair project in the 175-year history of New York City's drinking water supply.
Dewatering and the Geotechnical Baseline Report – What You Need to Know
The tunneling industry has done a good job of embracing the concept of the geotechnical baseline report (GBR). However, this positive development is undermined to a certain extent by a general misunderstanding of what constitutes a challenging vs. easy dewatering condition.
1,850-ft Microtunnel Completed for NEORSD
To comply with their Consent Decree with the Environmental Protection Agency (EPA) mandate of reducing sewage overflow into Lake Erie, the Northeast Ohio Regional Sewer District (NEORSD) retained NTH Consultants Ltd. (NTH) as Prime Engineer for design of a relief sewer/storage tunnel along River Road and Elm Avenue in Cleveland, Ohio.
Singapore PUB Issues DTSS Phase 2 Contracts
PUB, Singapore's national water agency, has appointed three contractors – Ed Zublin AG (Singapore Branch), Penta-Ocean Construction Co., Ltd. and Koh Brothers Building & Civil Engineering Contractor (Pte.) Ltd. Joint Venture, and Leighton Contractors (Asia) Limited (Singapore Branch) – to design and build the first batch of 30 km of deep tunnels and link sewers for the Deep Tunnel Sewerage System (DTSS) Phase 2.
CREG Wins Slurry TBM Contract in Shenzhen
On Aug. 29, CREG has been awarded a new contract for the supply of a 15.8-m OD slurry TBM. This TBM will be applied for Chunfeng Tunnel project in Shenzhen, China, and it will be the biggest slurry TBM ever made before by CREG.
Skanska-Stabag Team Breaks Through in Norway's Ulriken Tunnel
After coaxing along a rock-chewing behemoth named Ulrikke, as long as 1.5 international football fields and one of the largest of her kind. After carving out enough of Norway's hardest rock to fill 50,000 trucks. And after this high-performing team developed out of about 170 workers representing 12 nations. After all this, they had reached the end of their journey.
International Bridge, Tunnel and Turnpike Association Announces New President
With global transportation leaders from 22 countries meeting for the International Bridge, Tunnel and Turnpike Association's (IBTTA) 85th Annual Meeting and Exhibition in Atlanta, Georgia, IBTTA announced Tim Stewart, Executive Director of Colorado's E-470 Public Highway Authority, has been elected as the association's incoming President for 2018.
COMING IN OCTOBER
Tunnel Linings
Lighting
Tunnel Project Update
Don't miss out on the best tunnel coverage in North America — renew your subscription!
Trenchless Technology Road Show — Sept 25-27, 2017
Richmond, BC (Canada)
The Trenchless Technology Road Show (TRS) is the largest Canadian conference for educating municipal staff, consultants, contractors and engineers about the benefits of trenchless methods and technologies in sewer and water pipeline rehabilitation.
Learn More

Risk Management in Underground Construction — November 28-29, 2017
Washington, D.C.
The second annual Risk Management in Underground Construction course will explore all aspects of risk management, with presentations and panel discussions featuring international experts in this field.
Learn More

25th Annual Microtunneling Short Course — February 5-8, 2018
Boulder, CO
The three-day intensive course covers the latest in emerging technologies and technical information to ensure a successful project.
Learn More

NASTT's 2018 No-Dig Show — March 25-29, 2018
Palm Springs, CA
NASTT's No-Dig Show is the largest trenchless technology conference in North America, where professionals attend to learn new techniques that will save money and improve infrastructure.
Learn More

Technical and practical information required by engineers for cost effective and technically sound grouting programs.
Read More & Purchase
Innovative techniques focused on reducing time, cost and risk in the construction and maintenance of underground facilities.
Read More & Purchase