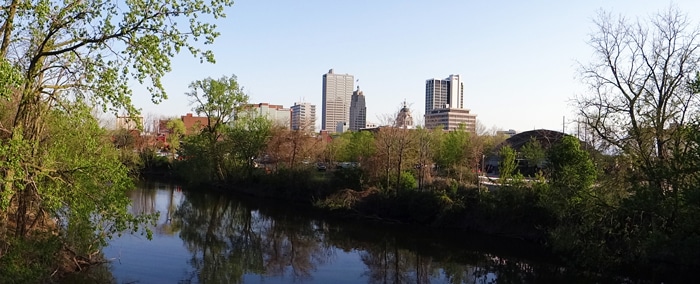 Fort Wayne Groundbreaking Marks Start of 3RPORT Project
The groundbreaking ceremony of the Three Rivers Protection and Overflow Reduction Tunnel (3RPORT) project in Fort Wayne, Indiana, on June 15 marked the beginning of the largest construction and public investment project the City has ever seen. Fort Wayne is the second largest city in Indiana with a population of 260,326.
RETC Descends on San Diego
Tunnelers and underground construction contractors, suppliers, designers and owners from around the world came together at the 2017 Rapid Excavation Tunneling Conference (RETC) in San Diego.
World Tunnel Congress 2017 Gathers in Norway
Held in Bergen, Norway from June 9-15 by the International Tunnelling and Underground Space Association (ITA) and the Norwegian Tunnelling Society (NFF), the World Tunnel Congress 2017 and 43rd ITA General Assembly were a momentous occasion and an undoubted success for the global tunneling industry.
SEM Excavation of East Link Downtown Bellevue Tunnel Progressing
The SEM excavation of the 36-ft wide, 32-ft high and 1,985- long light rail tunnel under downtown Bellevue, Washington, is well underway. Soon after the bid result in November 2015, Atkinson Construction received change order approval to allow construction of the first 50% of the tunnel—through more competent over-consolidated glacial tills—using a full top heading, bench and invert sequence.
A Big Break Through
As most people are certainly aware by now, the SR 99 TBM – Bertha – broke through on April 4, marking a big and welcomed milestone for the project. Most people are also aware of the many setbacks encountered on the project – most notably, of course, mechanical issues that led to a stoppage of tunneling for two years.
Granite Construction Celebrates 95 Year Anniversary
Granite Construction Inc., one of the nation's leading infrastructure contractors and construction materials producers, announced that it will celebrate its 95th anniversary throughout the month of June with a variety of special events and activities.
Michels Canada Builds Successful Microtunnel in BC
In 2016, Michels Canada used microtunneling to successfully construct a 145-m long tunnel under the heavily traveled Mary Hill Bypass roadway in Coquitlam, B.C., east of Vancouver. Michels navigated substantial challenges to build the 1,829-mm diameter tunnel in just two months, allowing the general contractor, Pedre Contractors, to stay on schedule.
Call for Abstracts: NASTT's 2018 No-Dig Show
Submit your abstract today for the North American Society for Trenchless Technology's 2018 No-Dig Show in Palm Springs, California on March 25-29, 2018. The deadline to submit abstracts is Friday, June 30.
COMING IN AUGUST
Tunnel Achievement Award
Dewatering
Upcoming Projects
Don't miss out on the best tunnel coverage in North America — renew your subscription!
ARCHIVED WEBINAR: Injection Grouting for Greater Groundwater Control Before, During, and After Tunnel Construction

Considering safe, secure tunneling operations, controlling groundwater is key-critical. Injection grouting is often planned as part of the pre-excavation phase, but can be a reactionary, unplanned step to solve unforeseen circumstances during and after construction. Engineers, Contractors, and Owner/Stakeholders will benefit from the knowledge share from industry experts and practitioners on grouting materials, grouting techniques, and proof statements specific to tunneling applications for storm water, wastewater, and transportation including public and private geotechnical projects.
Read More and Watch Webinar Here

Sponsored by: Avanti International

Breakthroughs in Tunneling Short Course — August 14-16, 2017
Chicago, IL
The most recognized and attended tunneling short course in the world will be celebrating its tenth year with the best program ever! This course covers all aspects of conventional and mechanized tunnel design and construction in hard rock, soft ground and soils.
Learn More

Trenchless Technology Road Show — Sept 25-27, 2017
Richmond, BC (Canada)
The Trenchless Technology Road Show (TRS) is the largest Canadian conference for educating municipal staff, consultants, contractors and engineers about the benefits of trenchless methods and technologies in sewer and water pipeline rehabilitation.
Learn More

Risk Management in Underground Construction — November 28-29, 2017
Washington, D.C.
The second annual Risk Management in Underground Construction course will explore all aspects of risk management, with presentations and panel discussions featuring international experts in this field.
Learn More

Technical and practical information required by engineers for cost effective and technically sound grouting programs.
Read More & Purchase
Innovative techniques focused on reducing time, cost and risk in the construction and maintenance of underground facilities.
Read More & Purchase