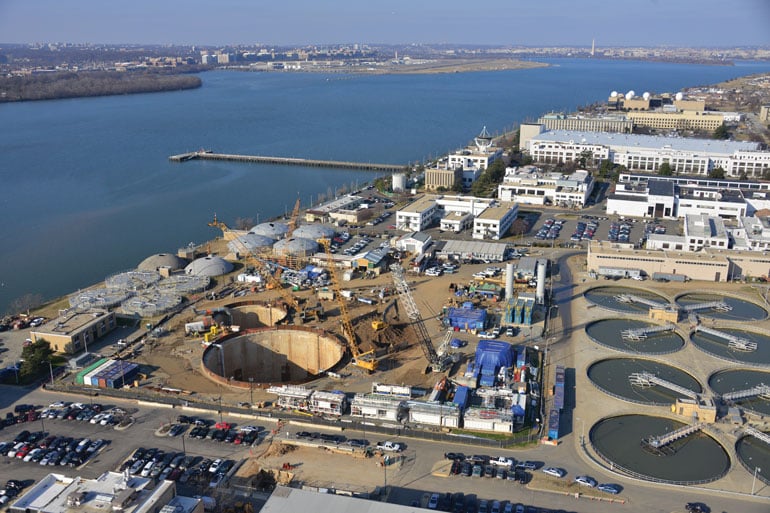 Tunnel Achievement Award – Blue Plains Tunnel
As the capital of the United States, Washington, D.C. is home to movers and shakers who provide direction for the country. Sewer utilities are not often among those who shake the foundation of conventional thinking. DC Water, however, took a new approach to constructing its Blue Plains Tunnel and proved that utilities can also be innovative and creative.
First Major Contracts Signed for UK's HS2
HS2 took a major step forward Aug. 1, with the formal signing of contracts to deliver the tunnels, bridges and earthworks that will carry the first phase of the UK's new high speed railway from London to Birmingham in 2026.
Agenda Set for Risk Management in Underground Construction Course
Course organizers have posted the agenda for the 2nd annual Risk Management in Underground Construction course, to be held Nov. 28-29, 2017, in Arlington, Virginia. The course features presentations from industry-leading professionals representing all facets of the underground construction industry, including owners, engineers, contractors, lawyers, financiers, manufacturers and insurers.
Salini Impregilo Tunneling for a Cleaner Argentina
A dump, an open sewer, a toxic cocktail: The words used to describe the Riachuelo River in Argentina have always been colorful. Winding its way through southern Buenos Aires, the river has served as a waste disposal site for all manner of industry, including tanneries, slaughter houses, paper mills and petrochemical plants.
Burke Named 2017 DFI Distinguished Service Award Recipient
George K. Burke, P.E., D.GE, is the recipient of DFI's highest award to an individual, the Distinguished Service Award (DSA). This award recognizes individuals who have made exceptionally valuable contributions to the advancement of the deep foundations industry. The award will be presented at the Awards Banquet during DFI's 42nd Annual Conference on Deep Foundations in New Orleans, October 24-27, 2017.
Funkhouser Joins McMillen Jacobs Associates' Columbus Office
McMillen Jacobs Associates announced that Mark Funkhouser, PE, has joined the Columbus, Ohio, office, relocating from the firm's Sydney, Australia, office.
COWI Names New Chief Project Manager
COWI North America announced that Michael Brethel, PE, joined COWI Tunnel as Chief Project Manager, effective Aug. 1, 2017. Brethel brings over 16 years of project management and design experience in geotechnical, structural and tunnel engineering.
COMING IN OCTOBER
Tunnel Linings
Lighting
Tunnel Project Update
Don't miss out on the best tunnel coverage in North America — renew your subscription!
Breakthroughs in Tunneling Short Course — August 14-16, 2017
Chicago, IL
The most recognized and attended tunneling short course in the world will be celebrating its tenth year with the best program ever! This course covers all aspects of conventional and mechanized tunnel design and construction in hard rock, soft ground and soils.
Learn More

Trenchless Technology Road Show — Sept 25-27, 2017
Richmond, BC (Canada)
The Trenchless Technology Road Show (TRS) is the largest Canadian conference for educating municipal staff, consultants, contractors and engineers about the benefits of trenchless methods and technologies in sewer and water pipeline rehabilitation.
Learn More

Risk Management in Underground Construction — November 28-29, 2017
Washington, D.C.
The second annual Risk Management in Underground Construction course will explore all aspects of risk management, with presentations and panel discussions featuring international experts in this field.
Learn More

Technical and practical information required by engineers for cost effective and technically sound grouting programs.
Read More & Purchase
Innovative techniques focused on reducing time, cost and risk in the construction and maintenance of underground facilities.
Read More & Purchase